Lesson 15: Building Intensity through Repetition
Focus on Rhythm
Index - Introduction - Lessons
Repeating a one-measure riff to build energy
Lesson 13 introduced the concept of building energy in solos by ascending in pitch and dynamics.  Another way to build intensity in a solo is through the use of repetition.  Repeating an idea several times can create a rhythmic dissonance that builds intensity and needs to be resolved.  Like the exercise in Lesson 13, you must feel the energy of the repetition and the rhythmic dissonance to make it work convincingly. Listen closely to the rhythm section and swing hard.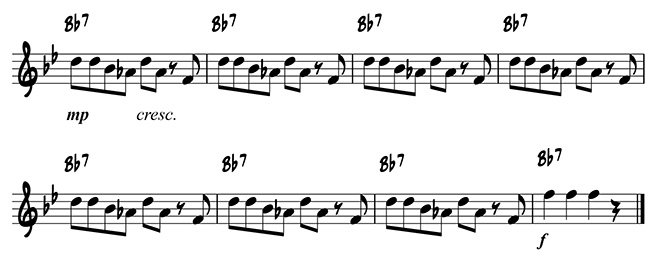 Lesson 15 Assignment
Part 1: Compose
Compose an eight-measure phrase that uses repetition to build energy.  Begin with a one-measure riff using chord tones and repeat it six more times.  In the eighth measure of the phrase, compose a contrasting idea to resolve the rhythmic dissonance.  You can also use a crescendo to make this approach more effective. (For free blank staff paper, visit www.Music-Paper.com)
Part 1.1: Follow those instructions for the B flat 7 chord.
Part 1.2: Follow those instructions for the E flat 7 chord.
Part 1.3: Follow those instructions for the Cm7 chord.
Part 1.4: Follow those instructions for the F7 chord.
Part 2: Memorize
Memorize those solos and play them many times.  Feel the energy increase as you repeat the one-measure riff.  If you do not feel it, try writing another solo.
Part 3: Improvise
Improvise in that same style over each of the sustained chords of the B flat blues.
Lesson 17: Building Intensity through Increased Rhythmic Activity